LP interview: Pictet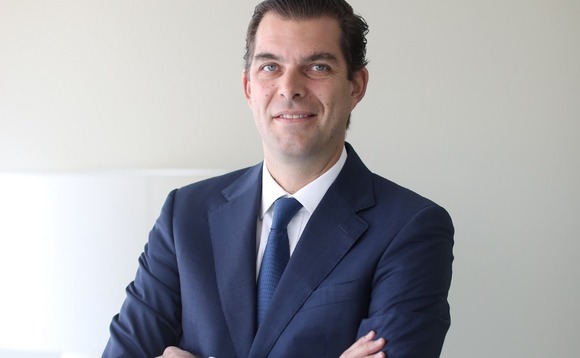 Switzerland-headquartered private bank Pictet is adding headcount in Asia – to assess investments as well as woo clients – as the introduction of new strategies increases exposure to the region
Pictet endeavors to be differentiated. To investors, it sets itself apart from the private banking mainstream by eschewing the practice of packaging private equity fund exposure into a handful of widely marketed feeders each year in favor of creating customized portfolios. To managers, Pictet represents a constituency with a different take on investment duration and selection to many LPs.
Two metrics suggest the private bank has been successful on both fronts. First, its assets under management (AUM) within alternatives have grown to $50 billion, of which $37 billion is overseen by Pictet Alternative Advisors (PAA) through a combination of comingled funds and customized mandates. PAA currently has $22 billion in private equity.
Second, the firm punches above its weight in terms of LP advisory committee (LPAC) representation. PAA invests across the spectrum, committing to venture capital funds, mega buyout funds, and everything in between. And though its private equity AUM is a fraction of that of the major global investors, two-thirds of its approximately 60 fund relationships include a seat on the LPAC.
"We've been around for more than 200 years, and we started investing in private equity in 1989. Our relationships are enduring and trusting, and it all started with our equity partners, investing their own personal and family wealth," says Hui Yang Goh, an Asia-based senior alternative investment advisor with Pictet's wealth management arm.
"The capital we invest comes from a different pool, unlike pension funds, endowments, or sovereign wealth. It is high net worth family money from blue-chip, long-term investors."
Wider catchment
Switzerland-headquartered Pictet doesn't disclose its number of account holders, but they are all well-heeled. Qualification is contingent on having at least $5 million in assets. Of the Asia-based customers, four in every five are classified as mega clients and family offices with more than $50 million.
Initial exposure to private equity globally was through separate account mandates, and these still account for 86% of assets, including 69% in discretionary mandates. The first co-investment came in 1992 and PAA ventured into real estate in 2004. As of June, there was $3.4 billion deployed in real estate and $11 billion in hedge funds, which were added to the portfolio a year after private equity.
PAA established a fund-of-funds program for hedge funds in 1994 and private equity followed in 2008, essentially widening access to the asset class. In the interests of diversified exposure and meeting the minimum commitment levels for individual funds, customized separate accounts are limited to clients able to invest at least $10 million. The fund-of-funds brought that down to EUR125,000 ($145,000).
Five flagship fund-of-funds have been raised to date – each one deployed over a period of three years – the most recent closing on $1.16 billion in 2019. There have also been one US small and mid-cap fund-of-funds, three secondary funds, and four co-investment vehicles.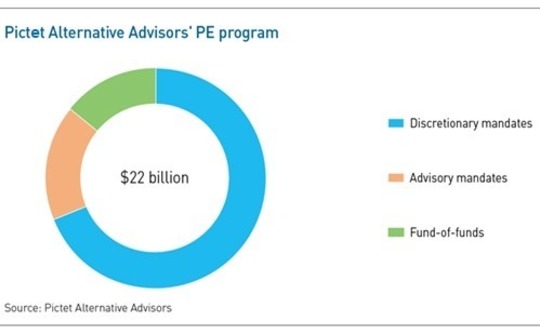 "It took close to 10 years before Asia became more significant. We take a bottom-up approach, so it wasn't a question of whether we needed to invest in Asia, but whether there were opportunities in Asia offering a better risk-adjusted return than in Europe or the US," explains Grégoire de Rham, head of alternative investments for Asia at Pictet.
"Often, in those days, you could make 2x relatively safely in the US. What multiple should you expect in Asia to compensate for the potential risk? One of the reasons we were prudent is we need validation and verification."
PAA made its first commitment to an Asian fund in 2005, backing a regional vehicle launched by a global manager already represented in the portfolio. The firm has followed a similar path to other LPs familiarizing themselves with a new geography, graduating from regional to single-country funds and embracing different strategies. Individual GP relationships are not disclosed.
Nevertheless, the approach remains resolutely conservative. First-time funds – excluding spinouts, where there might be a familiarity with the team – are not considered and usually not the sophomore vehicles either. There is a willingness to be patient and wait for evidence that a strategy works.
"We generally keep an open mind about country and strategy – we invest in people and platforms, and we don't follow the flavor of the month," says Goh. "We monitor how managers invest and sometimes that is a lengthy process. We might be willing to let an opportunity pass and wait until the next time someone is in the market."
Boots on the ground
PAA invests in approximately 25-30 funds each year through the fund-of-funds and customized mandates. Equity commitments range from $10-15 million for venture capital firms to $75-100 million for larger buyout vehicles. Asia accounts for just under 15% of the global portfolio by fund relationships, with 5-10 added in the region each year, although much depends on the size of the target funds.
"We've seen fund sizes doubling or tripling and managers coming back to market ever quicker, sometimes two years after raising the last fund," Goh adds. "We do ask questions. We look at the track record, consider the justification for raising a larger fund, and assess whether they can sustain the returns they have delivered in the past."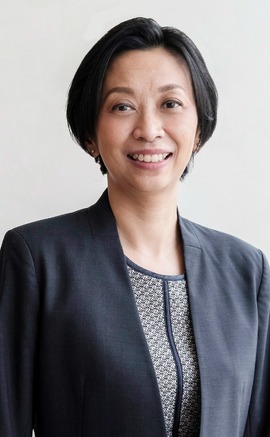 The same case-by-case assessments are applied to other hot-button topics in Asian private equity, such as growth-stage technology exposure extending into the large-cap fund space – to the point that some LPs are invested in the same start-ups through multiple vehicles – and China regulation. PAA continues to examine opportunities in China, while paying attention to how managers mitigate regulatory risk.
De Rham, who has been with Pictet since 2007, relocated to Singapore in 2015 to establish a presence in the region. This was primarily driven by the client-side of the business – Pictet's wealth management arm has been active in Asia for 35 years – but local research functions are being built out as well.
There are now six people covering alternatives generally out of Singapore and Hong Kong, including two Chinese nationals. The global private equity team is more than 15-strong, and for now, the Asia-focused investment professionals are sitting in Geneva. The plan is to add dedicated resources in the region. PAA already has a hedge fund specialist located in Asia.
Asia is set to become more prominent in the portfolio following the introduction of a thematic fund focused on technology and innovation, which closed at the hard cap of $350 million. While the flagship fund-of-funds tend to have a 10-15% allocation to Asia, the technology vehicle will be split equally between Asia, Europe, and the US, recognizing the region's outsize role in digitalization.
"We have a lot of thematic expertise on the public equities side – robotics, water, digital. That thematic approach has been one of the trademarks of Pictet, so we asked whether there was a way to do thematic investing in private equity," says de Rham.
"The answer was yes, but themes must be broad enough so that you are not constrained in your investment selection. That's why the first was technology and innovation; it's everywhere and impacts everyone. The second will be healthcare."
Education first
Asia is also becoming more significant as a client base, given the rapid creation of wealth in the region. Most of PAA's clients globally are family offices, although the amount of supporting infrastructure they have around them – in terms of people and processes – varies markedly. Some only want advisory mandates because PAA is just one part of their exposure. Others outsource fully on a discretionary basis.
Handling first-generation founders who want to play an active role in managing their fortunes and addressing preconceived notions about liquidity are among the additional challenges presented by Asia. European-style institutionalization of family offices, which tends to happen several generations down the line and often includes the recruitment of professional managers, has yet to take root in the region.
"Returns are going to be lower across all asset classes than they were in the past decade. People understand the next engine of growth could be alternatives, so there is some awareness of the asset class. But the level of sophistication really varies," Goh observes.
"Asians are more familiar with trophy assets like real estate. When it comes to private equity or real estate funds, there is j-curve impact, a 10-year commitment, and drawdowns and distributions. We need to do our fair share of education."
This is not necessarily something PAA is averse to. Cultivating high net worth clients who are used to the feeder fund offerings of other private banks is a time-consuming process. Why the PAA approach differs and what this means for portfolio management can take several meetings to sink in.
A sit-down meeting with a prospective client typically involves a discussion of long-term wealth management goals and how alternatives can help achieve these. PAA maps out what the person's portfolio would have looked like had they opted for a customized mandate, and maybe a year later, following a catch-up meeting and another portfolio review, the relationship starts moving. De Rham maintains that clients are much stickier once they have been through this process.
"I recently had a discussion with a prospect who already has a lot of private equity exposure with other banks," he says. "When I said that we could build a program together rather than offer fund opportunities at regular intervals through big distribution campaigns, it resonated with him. But that's also why it takes us longer to bring in new clients. They have to understand how we operate."
Back to Top