Profile: Jihoon Rim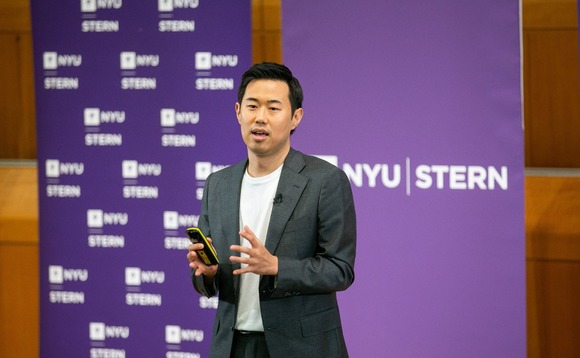 Jihoon Rim has been a venture capitalist, CEO of one of Korea's largest technology companies, and a US business school professor – in the space of a decade. He explains the appeal of new challenges
In August 2015, Brian Kim, founder and chairman of South Korean internet giant Kakao, invited Jihoon Rim to dinner. Members of Kakao's board were also in attendance. Rim assumed they wanted an informal update on the investments he was making as head of the company's venture capital unit. They had something else in mind: Rim was asked to become CEO of Kakao.
"When they said it, I was like, 'Are you serious?' I was ready to reject it; I had never thought of myself as an operational leader, in charge of 5,000 people," Rim recalls. "It took two hours for me to understand their motives. Kakao was in transition. It had acquired Daum [a Korean web portal and a larger company] and was in financial difficulty. Many strategic decisions had to be made – killing projects, rearranging the workforce – and they wanted an outsider with no internal political debt."
It was an unusual move, plucking an executive with no large-scale management experience from venture capital and putting him at the head of what was then a business generating KRW932 billion ($814 million) in annual revenue. But Rim's professional life has taken a number of twists and turns: from engineering to consulting to venture capital to CEO of one of Korea's highest-profile companies to business school professor. All before the age of 40. And apparently with minimal forethought.
"I'm not a huge believer in planning five or 10 years ahead. I jump into opportunities that really energize me," he explains. "If you look at my career, I move around quite a bit because I love intense moments, trying to figure out new things and new values."
To some venture capitalists, this might be a familiar mindset: the ability to work intently on certain projects with specific goals – typically helping companies scale – and then start over with a new set of targets. For example, Khailee Ng of 500 Startups in Southeast Asia, told AVCJ earlier this year that he had no desire to become a founder again because it doesn't suit his personality type. He likes to thrive on the realization of different ideas and so venture capital is a better fit.
Into investment
Perhaps it is no surprise that Rim was drawn to the industry, but in fact he knew relatively little about it before getting involved. He graduated from KAIST – formerly Korea Advanced Institute of Science & Technology, and a hotbed of engineering talent – in 2004. This led to a job in the corporate strategy team at Naver Corporation, which is to search in Korea what Kakao is to messaging. Within 18 months, he joined Boston Consulting Group (BCG).
"I thought I should learn some business, so I went to BCG. While there were some pros, it didn't really fit with me. It was too high level, producing a bunch of research papers and presentations," he recalls. "I realized I belonged in the technology industry and I was introduced to venture capital. Some friends said, 'It might be for you – you have the business sense and you're from tech.' I didn't really know what it was and had to Google a lot to understand the industry."
At the time, Korea's start-up environment wasn't particularly vibrant. Between 2004 and 2007, approximately $720 million was deployed across 230 early-stage deals, according to AVCJ Research. During the subsequent four years it would rise to $1.6 billion and more than 420 transactions. SoftBank Ventures Asia was among the early movers and Rim got a meeting with Daniel Kang, who remains with the firm as senior partner for Korea.
"Google had just set up a big R&D center in South Korea and was going to hire a bunch of engineers. Daniel asked me whether Google could overtake Naver and I told him it would never happen," says Rim. "In South Korea, Naver was smart to dominate content and sign contracts with all the newspapers and other publications to get exclusive rights. Google had better technology, but overtaking Naver would be difficult."
Rim credits SoftBank with listening to his investment theses – even as a newcomer to the industry – and being open to his start-up pitches, usually sourced through the network he had established at Naver. There was a flexibility to SoftBank's mandate, but online gaming and e-commerce featured strongly. Notable investments included SundayToz, which found early success with puzzle game Anipang, the first Korean game to achieve 20 million downloads. SundayToz went public in 2013.
Rim's investment activities drew wider attention, with Kakao founder Kim offering to support the launch of an independent venture capital firm. This led to the formation of KCube Ventures in 2012, with Rim as CEO. The firm raised $11 million for its debut fund and pursued a resolutely early-stage strategy. As SoftBank's assets under management had grown, Rim felt it was missing out on certain opportunities in Korea because of minimum check size constraints. KCube would be different.
"It was a perfect time, with a lot of entrepreneurs creating mobile services, so we invested in the top teams," he says. "Some VCs invest in the pre-revenue stage, but we were pre-product, that's a huge difference. We would help teams formulate companies, guiding them through the process, telling them to work on the product and we would handle the admin. We were the start-up's best friend."
The emphasis was on people and execution more than business models. Often, the first idea was not the best, and start-ups ending up pivoting into more lucrative areas. Dunamu has established itself as operator of Upbit, a global leading cryptocurrency exchange, but when KCube met the team, they were working on a mobile app for news. The VC firm recognized the CEO as a strong engineer and helped reposition the business model to focus on mobile brokerage services and then blockchain.
Moving in-house
There was an ongoing dialogue between Rim and Kim, in part so the former could gain insights into Kakao's strategy and understand where there could be opportunities for KCube, selling portfolio companies to Kakao or establishing partnerships. Dunamu, for example, launched a mobile brokerage for Kakao and then was awarded the contract to run Daum's financial services unit.
In 2015, this dialogue shifted focus, with Kim making the case that KCube could achieve even more as part of the Kakao family. The obvious potential downside – that entrepreneurs would be wary of a VC affiliated to a corporate – was ultimately trumped by two other considerations. First, user acquisition costs were getting high, so it was hard for start-ups to break through. Second, Kakao wanted to nurture partners across multiple verticals to support its service ecosystem plans.
KCube became Kakao Ventures in early 2015. (It remains an affiliate of Kakao, though some capital is raised from external investors.) Within seven months of the transition, Rim was facing bigger issues as CEO of Kakao. The Daum acquisition had left the company bloated and inefficient. Revenue reached a record high in the final quarter of 2014 following the closure of the merger in October. For the next two quarters there were consecutive declines in revenue, operating income, and net profit.
Rim's tenure as CEO was characterized by the development of verticals that complemented the core Kakao Talk messaging offering, notably content, financial services, and mobility. However, the company withdrew from other areas. For example, Rim describes axing Kakao Talk's international unit as a "brutal decision" that came at a time when everyone wanted to go global.
"We had to prioritize our businesses. If you aren't the dominant messaging service in a country, you can't build a business around that. In every other market, Facebook or Line was already there," he says. "I shifted to content instead because that could be a global business. We invested in gaming, manga and music, and that's how we ended up acquiring MelOn."
A hybrid of iTunes and Spotify, MelOn is Korea's preeminent music delivery platform, with parent company Loen Entertainment receiving a 30-40% cut of the proceeds whenever someone downloads a song or streams a music video. Affinity Equity Partners bought a majority stake in Loen from SK Group in 2013 and set about turning it into a content owner. Snapping up record labels and production houses meant that Loen owned the licenses to music, rather than just distributing it.
Affinity sold its interest in the company to Kakao for KRW1.87 trillion in 2016, generating a return of more than 6x. "They made a hefty profit, but it was great for us too," Rim explains. "The beauty of Kakao is that it has more than 40 million daily active users and Korea's population is 50 million. Everyone uses it. If you have the right content, it's a way to promote services. We were able to acquire more than one million users who were paying $10 a month for MelOn."
Much like Tencent Holdings-owned WeChat in China, Kakao Talk became the foundation for a super app intended to appeal to consumers and businesses alike, with e-commerce, payments, and online-to-offline services. Key subsidiaries now include Kakao Mobility, operator of Uber-equivalent Kakao T, and KakaoBank, a mobile-only lender. Rim approved the KakaoBank project but admits he never expected it to be successful in a highly competitive and already technology-enabled industry.
"All the credit goes to the team, they totally proved me wrong," he says. "The key strength of KakaoBank is simplicity. Go to any bank app and there are so many products and menus. People don't understand it. Our product team wanted to create a simple app with only three menus: save money, borrow money, transfer money. From the start, they didn't want to create a PC service because if you put the mobile app on a PC it would look weird."
By 2017, Kakao's revenue was KRW1.97 trillion, twice the 2015 total. Operating profit and net profit had grown by similar multiples, and the company's stock price had recovered. Rim decided to quit. Brought in to engineer a turnaround, he believed it was now complete. He didn't want to lead Kakao through calmer waters; that was executives of a different disposition. Besides, the parliamentary committee appearances and media attention that came with being CEO weren't much fun.
Shared knowledge
The next career move wasn't planned, just like those before it. Rim stepped down in early 2018 and spent a month relaxing in Bali. He then moved to New York, seeking a change in tempo. What was supposed to be a three-month stay became longer because the fast-paced environment appealed to him and a chance meeting with a business professor led to a part-time job offer.
The NYU Stern School of Business at New York University was promoting technology as a career option for its students and Rim was invited to become an adjunct professor in 2019. "I'd never thought about teaching an MBA and I wasn't educated in the US, so I didn't think it would work out," he recalls. "They didn't say anything to me; just come up with a course, we trust you. It was 90 minutes twice a week for 13 weeks, do whatever you want."
Rim drew on his own experience, fashioning a course that examined the dynamics of different technology verticals. US-based start-ups, from Facebook and Google to Amazon and Uber, formed the case studies, but Rim's ability to talk about them comes from Korea. Whereas in the US most verticals are dominated by different players, in Korea everything revolves around Kakao and Naver.
Rim's course proved a success and NYU Stern offered him a full-time position despite an official hiring freeze because of COVID-19. As a visiting professor of management practice, he will continue to teach his existing courses and add another about being CEO of a technology company. "There is a huge misunderstanding of what a CEO does," he says. "There are crazy documentaries about Steve Jobs as a dictator and product owner. If normal people try to replicate him, it would be a disaster."
Rim hasn't thought much about what the next chapter in his career might bring, but it will likely involve testing himself in a new way. Listening to accounts of being thrust into the fire at Kakao as a CEO with little leadership experience or walking into a lecture theater nagged by fears about having no academic credentials and nothing relevant to say, Rim evidently gets a kick out of leaving his comfort zone.
"I do enjoy that kind of challenge," he says of the business school job. "It's like when I created KCube at 30-31 and everyone was telling me, 'You're doing well, why leave SoftBank, why take the risk?' Back then, as a 30-year-old CEO of a venture capital firm, you didn't get along because the average age of a CEO was 57 or something. They didn't want to mingle with me, so I didn't mingle with them."
Picture credit: ©Slezak - Courtesy of NYU Photo Bureau
Back to Top