TOP RESEARCH
Key Findings
134 funds closed in 1H 2012 with $29 billion in commitments, a 12% drop from the previous year
Firms closed 800 deals in 1H 2012. Capital invested was down as well, at just $28.7 billion
Utilities and Medical increased as a proportion of deal value
Exit activity decreased in 2012, trade sales dominated the market
PrivateEquity-backed IPOs was almost half of 2011 same period, at $11.7 billion.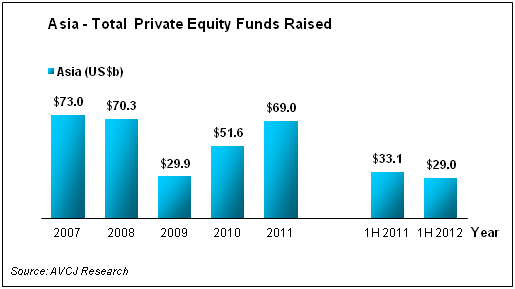 RESEARCH DATABASE
AVCJ database is the ultimate link between Asian dealmakers and those who provide advisory, financial, legal and technological services to the private equity, venture capital and M&A industries. The AVCJ Database gives subscribers access to more than 113,800 companies and facts and statistics on over 84,000 transactions
A large profile pool with more than 6,800 funds, 3,500 GPs and 2,900 LPs
Comprehensive records, including more than 75,000 M&A transactions; 17,000+PE/VC investments; over 2,300 PE/venture-backed IPOs; and in excess of 2,700 exits
Data that is updated daily and tracked as far back as 1990 - the longest and deepest trach recrod in Asia.
Please click here for a free trial of the Database.
RESEARCH REPORTS
AVCJ's series of topical pan-Asian industry reviews provides an independent overview of the private equity, venture capital and M&A activities in the Asia region. The annual reviews include the latest statistics and analysis by AVCJ's experienced research team and deliver insights on investments made, capital raised, sector-specific figures plus in-depth market information. The series is essential reading for all private equity investors, investment bankers, accountants, lawyers, corporate financiers and management consultants looking at the Asian market.
The series includes:
A series of annual regional reports is produced by the AVCJ research team. The reports review the year's local private equity and venture capital activity and are filled with up-to-date data and intelligence on fundraising, investments, exits and M&A. The regional reports also feature information on key companies and transactions. Offering global perspective alongside local opportunities, the regional reports include:
RESEARCH TOOLS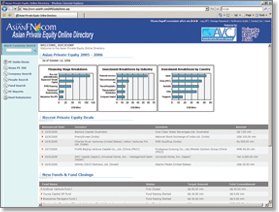 The Asian Private Equity Online Directory is the absolute directory. Encompassing the Asian Private Equity 300, the Online Directory is easily searchable and completely exhaustive. This up-to the-minute listing consists of more than 3,900 Asian private equity firms and over 9,600 professionals.
Please click here for a free trial of the Directory
AVCJ Research can provide your firm with timely and accurate research support to help you simplify and expedite your workflow. We conduct in-depth research and provide insightful analysis in a bespoke report that fully meets your data requirements.
AVCJ Customized Data Service includes:
✔ Pan-Asian Industry Reviews/Regional Repots – timely updates
✔ Specific industry and financing stage research
✔ Comprehensive statistics on investments and funds
✔ Exits strategic analysis
✔ Market peers comparisonp you simplify
Please contact us for details.